The Tuvalu range of garden storage sheds is designed primarily for storage. The cabins have no windows, so content is more secure.
The Tuvalu comes in 2 sizes 3.6m x 1.75m and 4m x 3m.
The cabin design has two separate entrances with a solid wall between each room, so that for example your bicycles or possibly a mobility scooter can be kept separate from general storage.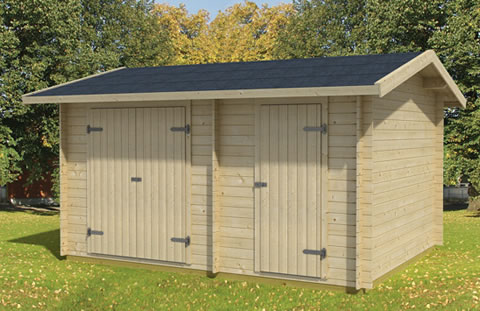 Tuvalu 1 Storage Shed Specifications
Wall Thickness
28mm single timber
Floor Area
6m2
Double door & single door
1.5m & 0.79 x1.79m
Window
None
Height to apex
2.51m
Cubic volume
13.9m3
Height to eaves
2.11m
Roof overhang
front 0.3m
Log cabin dimensions
1.75m x 3.6m
Roof Area
10.1m2
Tuvalu 1 Storage Shed Floorplan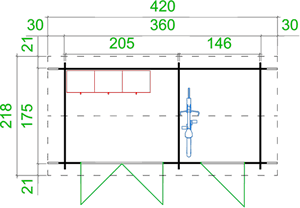 Please note that this log cabin requires a foundation base
1.75m x 3.6m
Tuvalu 2 Storage Shed Specifications
Wall Thickness
28mm single timber
Floor Area
11.6m2
Double door & single door
1.5m & 0.79 x1.79m
Window
None
Height to apex
2.51m
Cubic volume
26.8m3
Height to eaves
2.11m
Roof overhang
front 0.3m
Log cabin dimensions
1.75m x 3.6m
Roof Area
17.5m2