All Woodpecker log cabins and garden sheds are supplied as standard with a pressure-treated timber base, quality doors and double glazed windows (except some 28mm models). Many cabins also have the options of terraces, verandas, window shutters and boxes.
Log Cabin Kits and Assembly Packages
Depending on your requirements, you have four different
DIY Kit
Delivery & Assembly
Delivery & Assembly plus wood preservative 
Delivery, Assembly, Wood Preservative plus bespoke fit-out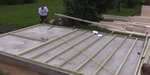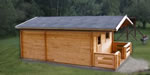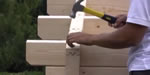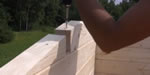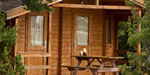 Option A – DIY Kit (curbside delivery, self-assembly)
It is best if the cabin is assembled by professionals, but if you are capable of holding a hammer and you have someone to help, there is no reason why you could not manage the assembly yourself. The kit comes with a list of  well-marked parts and comprehensive assembly instructions.
N.B. As the colour of the finished cabin is a matter of your preference, roofing felt and preservative/lacquer are not included in the kit. You can source your own, or we can supply a range of suitable products at competitive prices.
Option B – Supply and basic assembly
Standard assembly includes delivery, ground work, expert assembly, underfloor insulation, heavy duty felt for roof, external coat of preservative lacquer.
Option C – Basic assembly plus preservative 
delivered and assembled on suitable footings/foundation, plus preservative/timber treatment applied
Option D – Complete supply and customised fitting
Complete supply and fit includes installation of suitable footings/foundation, assembly on suitable footings, preservative/timber treatment, inside and outside (up to three coats on outside).
Optional extras for our Log Cabins & Garden Sheds
Woodpecker Log Cabins  offer a comprehensive range of optional extras such as:
electrics – sockets, lights and electric heaters
insulation – underfloor and ceiling
wall insulation double wall
plumbing – sink, toilet, shower
path to connect to main building
and many more…
For example electrics for your home office, plumbing and w.c. for your treatment room, sound proofing for your home studio, heating for your garden TV lounge. They can also be fully insulated to provide you with a comfortable year-round working or living space.
Call us to discuss your specific requirements.