This aesthetically pleasing clock house design will enhance any garden. The eight half height windows and fully glazed double doors make this cabin light and airy. Use as a summer house, guest bedroom, hangout room for the kids, study, hobby room for yourself or just as a summer house.
It is sturdy, robust and looks great in any garden.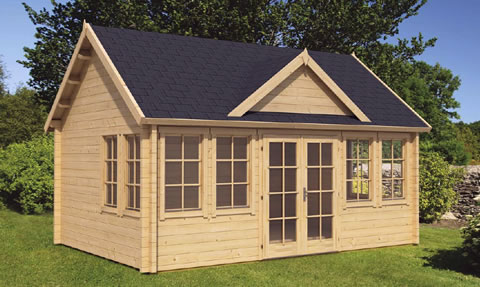 This is one of our most popular log cabins.
Wall Thickness
44 or 70mm single timber
Floor Area
19.3m2
Double door
1.58m x1.957m
Windows
8x 0.71m x 1.224m
Height to apex
3.65m
Cubic volume
56.8m3
Height to eaves
2.22m
Roof overhang
front 0.2m
Foundation base needed
3.8m x 5.3m
Bermuda 44 floor plan