The Canberra timber garage is a premium quality timber log building. This wooden garage is a pent design with enough slope to allow rain runoff but keeping the garage profile to a minimum. There is enough length to allow a worktop or bench at the back end for a utility or storage area. The side door gives easy access to the storage end of the garage and also means you can lock or bar the main doors internally.
This timber garage is constructed from 44mm double tongue and groove logs giving a solid, weather proof long lasting building.
We can supply this garage with three door options, double doors 3 robust T-hinges to each door, an up and over door in the same timber finish as the garage or with no door at all. This design has two side windows and a 3 panel glazed side door letting in light for day time use, handy if electric is not available.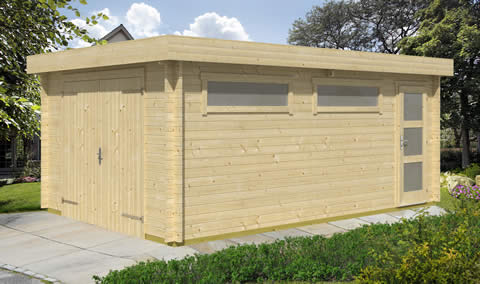 Price Options for the Canberra Timber Garage
Kit Prices

€4175 with hinged door
€4885 with Up and Over Door
€3745 without door

Fully assembled ready to use

€7735 with hinged door
€8445 with Up and Over Door
€7305 without door

Complete kit of the parts needed to build this superb timber log garage

kit price is for collection
kerbside delivery €150 (Dublin area)
remember to order roofing felt (not included)
remember to order insulation if required

This price includes:

delivery Dublin area (POA other areas)
foundation and concrete floor,
heavy duty roofing felt,
external coat of preservative/lacquer/woodlands
Optional extras for Canberra timber garage
We can also undertake these additional options, please ask when ordering
Reinforced concrete floor
Torch-on roofing felt
install electricity sockets and lights
install plumbing
path to side door
shelving
roof insulation
Specifications for Canberra timber garage
Wall Thickness
44mm single timber
Floor Area
18.7m2
Side door 3 panel glazed
0.835m x 1.957
Windows
2 of 1.5 x 0.4m
Height to apex
2.34m
Cubic volume
42.5m3
Height to eaves
2.22m
Roof overhang
front 0.4m
Foundation base needed
3.6m x 5.4m
Floor Plan for Canberra timber garage