This flat roofed low profile garage is a modern, contemporary style, with sleek lines and elegant proportions. Designed to keep your car dry and safe, yet look good as well.
Despite its budget price, this garage has many high-spec features. The 44mm timber offers a high level of protection against the elements and freezing temperatures. The slow-grown spruce as used in all our cabins offers a high level of insulation and durability.
The glass used in the door panels and side windows is privacy glass. This means the light comes in so you can see what you're doing, but anybody outside can not see you, your car and any other garage contents and is therefore less likely to attract attention from passing prying eyes. This means it can also be used as secure but well-lit, workshop or storage room.
This garage is available with standard hinged wooden doors or a timber clad up&over door. The garage is available as a kit with everything included, doors, windows, screw and hinges etc.. All you need are some basic tools, hammer/mallet screwdriver, measuring tape and spirit level. If you are not happy erecting the garage yourself, even though the construction is designed to be simple and quick even if you're not a DIY aficionado we can organise this for you.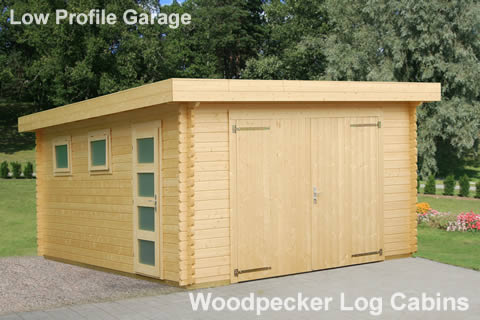 Price Options for the Low Profile Timber Garage
Kit Prices

€3845 with hinged door
€3995 with Up and Over Door
€3500 without door

Fully assembled ready to use

€6845 with hinged door
€6995 with Up and Over Door
€6500 without door

Complete kit of the parts needed to build this superb timber log garage

kit price is for collection
kerbside delivery from €50
remember to order roofing felt (not included)
remember to order insulation if required

This price includes:

delivery Dublin area (POA other areas)
foundation and concrete floor,
heavy duty roofing felt,
external coat of preservative/lacquer/woodlands
Optional extras for timber garage
We can also undertake these additional options, please ask when ordering
Reinforced concrete floor
Torch-on roofing felt
install electricity sockets and lights
install plumbing
path to side door
shelving
roof insulation
Specifications for Low Profile timber garage
Wall Thickness
44mm single timber
Floor Area
19m2
Side door 4 panel glazed
0.74m x 1.82
Windows
2 of 0.7 x 0.43m
Height to apex
2.43m
Cubic volume
42.2m3
Height to eaves
2.28m
Roof overhang
front 0.15m
Foundation base needed
3.6m x 5.5m
Roof area 24.5m2
Roof pitch 1.8º
Floor Plan for Low profile timber garage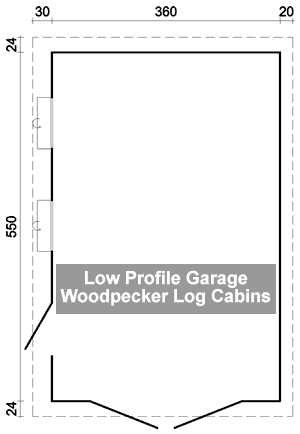 Other Garages